Job advertisement: Aerospace Engineer – Spacecraft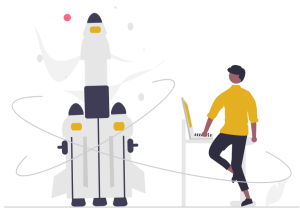 Are you the type of person who wants to know how things work and likes solving maths problems? Would you like to design, develop, and test drones, aircraft, spacecraft or rockets? Maybe you've even dreamt of going to space! Why not think about a career in mechanical or aerospace engineering?
Read the job advertisement for an aerospace engineer to get an idea of what this kind of role involves, and what employers look for in applicants.
You will find explanations for text marked with an asterisk (*) below the advertisement. Select the question to reveal the answer. You can also build on some of the skills relevant to the position by following the Learning Lab links at the bottom of the page.

Aerospace Engineer – Spacecraft
Ellis Hayz Space Technologies
Victoria
Full-time
Entry Level+*
Salary: $86,000 – $104,000 +
Benefits: health insurance, leave entitlements*, salary packaging*
Ellis Hayz is taking Australia ad astra (to the stars) with innovative new propulsion technologies for launch vehicles*.
Why you should join our mission:
At Ellis Hayz, the stars are the limit! Our team is working together to take humanity higher and further than ever. With us, you'll be working in a dynamic environment where you're continuously learning new things and developing new skills. Ellis Hayz's culture thrives on curiosity and bold new ideas – we encourage you to think outside the box.
How you will contribute to our mission:
Below are just some of the things you'll be doing within your role:
Helping to design hardware suitable for flight on a rocket motor system
Helping to develop and test rocket engines and other components of launch vehicles
Researching propulsion system optimisation
Analysing and interpreting data collected through testing
Supporting the Lead Propulsion Engineer and collaborating with colleagues in Queensland and South Australia
Minimum qualifications, skills and knowledge:
Recognised Bachelor's degree in a

relevant engineering discipline*

Capability to obtain and clear an

NV Level 1 Security Clearance*

Good working knowledge of the propulsion industry, or a willingness to learn
Desired skills and experience:
Excellent written and verbal communication skills
Able to work both independently and as part of a team
Good working knowledge of and experience using

CAD, SolidWorks*

Excellent time management skills and an ability to effectively prioritise and manage projects
Proficient in Microsoft Office applications
Strong and problem-solving skills
An interest in long-term engineering solutions to sustainability issues
We understand you might not meet all the desired criteria, but don't let that stop you! We're looking for dedicated workers to join our team. What are you waiting for?
Apply Now!
If you are a passionate and hard-working team player who wants to help send Australia to the stars, please apply now by submitting your resume and cover letter.
DID YOU KNOW?
The Australian Space Agency states that by 2030 Australia aims to have grown a A$12 billion space industry employing 30,000 people.
Would you like to work in the space sector, but you're not sure about a role as an aerospace engineer? The space industry is a workforce with a range of skills and interests.
Here is a list of some other future space careers you might like to research:
Astronaut
Avionics Technician
Earth Observation Scientist
Flight Surgeon
Robotics Engineer
Space Business Development Manager
Space Communicator
Education Outreach Officer
Space Lawyer
Space Policy Analyst
Space Scientist
Sources:
Australian Space Agency (2019), Advancing Space: Australian Civil Space Strategy 2019-2028, Department of Industry, Science and Resources, Australian Government, accessed 21 November 2022.
Australian Space Discovery Centre (c. 2019) Pathways for a career in space, Australian Government Department of Industry, Science and Resources website, accessed 21 November 2022.
NASA (2016) Cosmic 'Winter' Wonderland [photograph], Wikimedia Commons website, accessed 22 November 2022.
Learn more on Learning Lab
Time management skills include goal setting, effectively prioritising tasks, and meeting deadlines. Check out this tutorial on SMART goals (10 minutes) and some strategies to help you stay focused and get things done. (15 minutes)
Being able to think and act 'critically' is an important and necessary skill for your academic success as well as your future employment. Learn the basics in the Introduction to critical thinking tutorial. (10 – 60 minutes)
Mathematics is important to all engineering disciplines. Why not explore some maths tutorials? If you're interested in aerospace engineering, you could focus on algebra and trigonometry first, and then vectors, which are used to represent velocity and acceleration – important when you're building a rocket!
Referred to either as 'superannuation' or just 'super'. During your working life, your employer/s must pay an amount of money into a special account every time you are paid your salary. For example, in 2023, if you make $70,000 per year, Australian employers must pay at least $7,350 per year into your super, on top of your salary. This money is for you to live on when you reach pension age and retire.
Critical thinking means examining (analysing) a situation in detail and using evidence to make a judgement (evaluating) from an objective point of view. Critical thinking doesn't have to be negative all the time, nor does it mean always pointing out the faults in an issue. A good critical thinker asks good questions, recognises and challenges biases (including their own), doesn't accept everything as true, finds credible sources, and reflects on their own understanding of ideas.