Job advertisement: Health Economics Research Assistant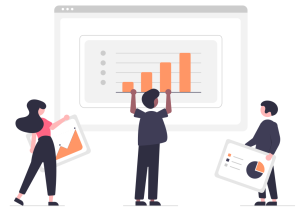 Are you the type of person who often thinks about how things could be done better? Do you like exploring statistics, and searching for answers to interesting questions? Have you thought about a career as a researcher?
Read the job advertisement for a Research Assistant in Health Economics to get an idea of what this kind of role involves, and what employers look for in applicants.
You will find explanations for text marked with an asterisk (*) below the advertisement. Select the question to reveal the answer. You can also build on some of the skills mentioned in the ad by following the Learning Lab links at the bottom of the page.
Health Economics Research Assistant
Nova University, Victoria, Australia
Entry level
Higher Education
Melbourne – online and on site
Working hours: This is a full-time position, part-time may be considered by negotiation; Fixed term* for 12 months
Faculty: Health and Biomedical Sciences
Salary: $75,300 – $102,163 (range) plus 17%
We are seeking to fill a position in the Economics Research team at the Centre for Health Economics Research and Policy (CHERP). The position offers the opportunity to work on various projects within the field of economic evaluation, collaborating with specialists and clinical studies in infectious disease intervention and global health.
As part of the Economics Research team, the successful applicant will be expected to support and contribute to a program of health economics research under the direction of senior researchers.
Key Selection Criteria
Strong quantitative research skills
A tertiary qualification in a

quantitative discipline*

or a health-related discipline with a demonstrated interest in pursuing economic research.
Demonstrated high-level communication skills (written and verbal)
A demonstrated capacity to work collaboratively within a multidisciplinary team, both online and in person
If you feel this role is right for you, please submit your application by uploading your CV and a cover letter responding to the Key Selection Criteria.* 
Reflect
Look at the Key Selection Criteria in the advertisement:
Would you like to do this type of job?
Do you already possess some of the skills needed for this position?
What skills would you need to develop to apply for a position like this in the future?
What type of study, work, or life experiences could help you apply for a position like this?
A university degree in your area of interest can help you gain this experience and knowledge and support your KSC. A written assessment, such as an essay, could be evidence of your high-level communication skills, and group tasks offer the opportunity to show you can work collaboratively.
Learn more on Learning Lab
Knowing how to make a good impression and choose the best digital tools when collaborating online can be tricky, but it's nothing you can't handle once you know the basics. Explore the Working well together online and Using collaboration tools tutorials. (approximately 25 minutes each)
Writing to your colleagues and professional collaborators is quite different to writing to your friends and teachers. Check out the Writing for the Workplace tutorials to boost your professional communication skills.
Referred to either as 'superannuation' or just 'super'. During your working life, your employer/s must pay an amount of money into a special account every time you are paid your salary. For example, in 2023, if you make $70,000 per year, Australian employers must pay at least $7,350 per year into your super, on top of your salary. This money is for you to live on when you reach pension age and retire.