Job advertisement: Schools Speech Pathologist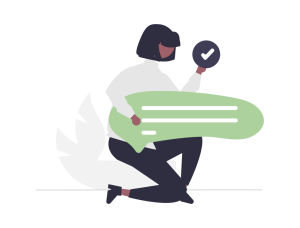 Are you a patient and empathetic person who likes to help people overcome challenges? Are you interested in topics like language, health, education and psychology? Would you like to work with people of different ages and backgrounds? A career in speech pathology might be for you!
Read the job advertisement for a speech pathologist to get an idea of what this type of role involves, and what employers look for in applicants.
You will find explanations for text marked with an asterisk (*) below the advertisement. Select the question to reveal the answer. You can also build on some of the skills relevant to the position by following the Learning Lab links at the bottom of the page.
Schools
Speech Pathologist*
Shire Specialist Education Services (SSES)
Salty Shire & surrounding areas
Job Type:  0.8 FTE*
Salary: $77,323 – $102,520 +
Seven weeks paid annual leave
New grads welcome to apply
About SSES
Shire Specialist Education Services is a growing company servicing Salty Shire and surrounding areas. We provide regional and remote schools and their communities with access to a range of services and advice. We have a multidisciplinary team of specialist educators, youth workers, counsellors, and a music therapist. We are now looking to expand our team and the services we offer to include speech pathology.
About the job
The speech pathologist's role involves delivering a range of services and support at private and public educational institutions in Salty Shire and surrounding areas. This might include kindergartens, primary and secondary schools, and specialist education organisations which provide education designed for students with specific disability and complex needs.
What you will do in the role: 
Provide

speech, language, and literacy intervention*

to students, either one-to-one, in small groups, or in a classroom environment
Collaborate with school leaders, teachers, and parents to decide upon and implement strategies
Use

data to track progress*

and make decisions leading to the best outcomes
Assist in the design of personalised activities and lessons for teachers to support their students' speech and language needs
Assist in professional development to increase teacher understanding, skills, and confidence to support students
About you
Essential Criteria 
Bachelor of Speech Pathology

or equivalent*

with a focus on literacy and oral language development
Eligibility for Speech Pathology Australia membership
A current

Working with Children Check*

and Australian driver's licence
Strong critical thinking skills and an ability to collect and analyse data to drive outcomes
High standard of written, verbal, and interpersonal communication, including the ability to prepare professional written reports, assessment documentation, and case studies.
Ability to collaborate with a multidisciplinary team and maintain positive professional relationships
Confidence with technology and using digital meeting and collaboration tools
Desirable Criteria  
Experience and/or qualifications in education
Experience in musical and play-based assessment techniques
Willingness to support the SSES Music Therapist two days a fortnight
To apply for this position, please submit your CV and a cover letter (3 pages maximum) demonstrating how you meet the above criteria.
This job advertisement is for a company that works with schools, but speech pathologists work with a wide variety of people in many different settings.
Some places where speech pathologists are employed include:
Childcare centres, schools, and universities
Hospitals and private practices
Aged care facilities
Rehabilitation facilities
The justice system
Look through the cards below to get an idea of some of the different people speech pathologists help.
 Learn more on Learning Lab
Referred to either as 'superannuation' or just 'super'. During your working life, your employer/s must pay an amount of money into a special account every time you are paid your salary. For example, in 2023, if you make $70,000 per year, Australian employers must pay at least $7,350 per year into your super, on top of your salary. This money is for you to live on when you reach pension age and retire.