Job advertisement: Business Resilience Officer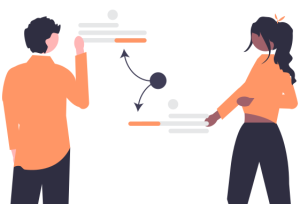 Are you the type of person who anticipates future challenges and comes up with potential solutions? Have you thought about a career helping industries and businesses prepare for potential disasters?
Read the job advertisement for a Business Resilience Officer to get an idea of what this kind of role involves, and what employers look for in applicants.
You will find explanations for text marked with an asterisk (*) below the advertisement. Select the question to reveal the answer. You can also build on some of the skills mentioned in the ad by following the Learning Lab links at the bottom of the page.

Business Resilience Officer
Salty Shire Council, Victoria, Australia
9-day/72.5 hour fortnight
$77, 900 – 84,360
up to 12% +

leave loading*

Discounted health insurance
Location: Salty Shire region, personal vehicle required
Do you want to use your degree to help a diverse community thrive?
The Salty Shire Council serves the townships and urban centres in this diverse region spanning more than 1000 square kilometres. Employing over 400 people, the council is dedicated to servicing the needs of local communities, improving the lifestyle of residents, and helping the local economy thrive.
Would you like to be part of the new economic development team at the Salty Shire Council? As a Business Resilience Officer, you will collaborate with the Economic Development Branch, focusing on ways to address the changing needs of the community.
You will;
contribute to building a more resilient economy in the region, providing individual support and enabling local businesses to grow and survive in the face of challenges such as climate change, natural disasters,

geopolitical conflict affecting trade*

, and pandemics
conduct research to find vulnerable local industries and businesses and design interventions.
 You will have;
a recognised undergraduate qualification relevant to economic development, business management, commerce or marketing; or 8+ years of relevant experience
a desire to solve problems and implement solutions, promote collaboration, and facilitate small work groups
highly developed interpersonal skills with the ability to communicate persuasively,

engage in active listening*

, consult with a wide range of people at all levels
the ability to prepare professional business communication such as reports, presentations, and project documents.
How to Apply
Please upload your current resume and cover letter demonstrating how you meet the requirements of this role.
Reflect
The job advertisement mentions a range of specific skills which are considered 'transferable'.  This means they're skills that will be useful in many different types of jobs and in day-to-day life. Transferable skills are highly valued by employers in all industries.
Can you identify the transferable skills mentioned in the advertisement?
Do you already have some of these skills?
How could you further develop these skills?
Learn more on Learning Lab

Referred to either as 'superannuation' or just 'super'. During your working life, your employer/s must pay an amount of money into a special account every time you are paid your salary. For example, in 2023, if you make $70,000 per year, Australian employers must pay at least $7,350 per year into your super, on top of your salary. This money is for you to live on when you reach pension age and retire.